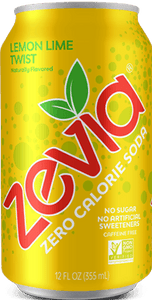 Zevia Soda Lemon Lime Twist (355ml)
Regular price $0.00 $1.85 Sale
Price includes bottle deposit.
Zevia Lemon Lime Twist is the epitome of refreshment, with a playful flavor that will satisfy all your citrusy needs. We've replicated a classic lemon lime flavor that you already love, recreating it in true Zevia fashion as a better-for-you soda with none of the bad soda stuff and a pretty delicious taste. The healthy alternative to diet lemon lime sodas, Zevia Lemon Lime Twist is flavored with a blend of pure, simple lemon and lime oils and sweetened with the miracle that is stevia leaf.
Ingredients: Carbonated Water, Natural Flavors, Stevia Leaf Extract, Citric Acid.