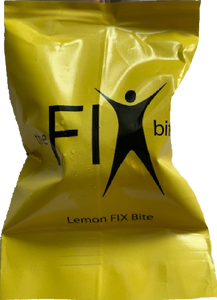 The Fix Bite Lemon
Locally made in Kamsack, SK!
Delightful energy bite, nut free with lemon, coconut and oat flour to give you that quick energy boost to make it to the finish line. 32 grams, 60 calories.
Want that quick energy boost that propels you to the finish line?  Try our Lemon FIX Bite.
An amazing mixture of coconut, lemon and out flour with dates make this superfood Bite unique.  It is satisfying and delightfully sustaining.
The FIX Bite adds flavour to gaining your calcium, fibre, phosphorous, and iron needs in all 32 grams and 60 calories.
This FIX Bite is nut free so will be great for school snacks.
Ingredients: oat flour, medjool dates, unsweetened coconut, fresh squeezed lemon juice, fresh lemon zest