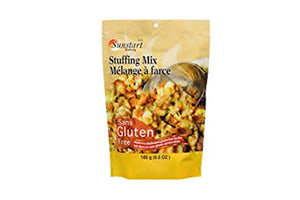 Sunstart Bakery Gluten Free Stuffing Mix (185g)
A gluten free stuffing mix is a delicious classic, including a package of toasted gluten free croutons, and a separate seasoning pouch containing onion, garlic and a blend of spices. Can be made quickly and conveniently on the stove top or baked inside a turkey.
Ingredients:
Stuffing:
White rice flour, potato starch, water, brown rice flour, canola oil, cane sugar, yeast, sea salt, modified cellulose, rice bran, natural colour.
Seasoning:
Dehydrated onion, spice, sugar, salt, sunflower oil, dehydrated garlic. 
Caution: Made in a facility that processes: Milk, egg, soy.