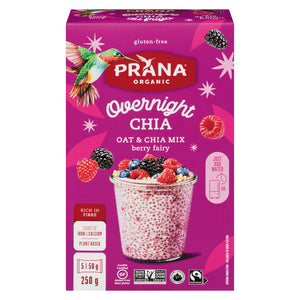 Prana Overnight Chia Berry Fairy (5x50g)
Kosher
Non-GMO
Gluten Free
Say goodbye to rushed mornings and hello to your new favourite, nutritious and oh-so-convenient breakfast. Slightly sweet and tangy, this ridiculously easy to make organic overnight chia is a mix of hearty oats, nourishing chia seeds and dehydrated berry powder – all organic!
Ingredients: Gluten-free oats*, Chia seeds*, Cane sugar*FT, Gluten-free whole oat flour* (whole oat flour*, mixed tocopherols, amylase), Freeze-dried raspberry powder*, Coconut milk powder* (coconut milk*, tapioca maltodextrin*), Freeze-dried blackberries* and/or cranberries* and/or blueberries*, Citric acid, Black carrot juice powder (for colour).
*Organic
May contain: Almonds, Brazil Nuts, Cashews, Hazelnuts, Pecans, Pistachios, Walnuts, Sesame, Soya.