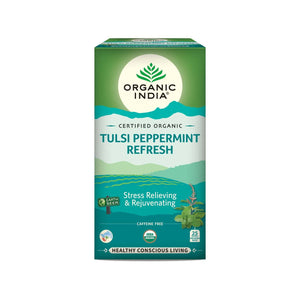 Organic India Organic Tulsi Peppermint (25 Tea Bags)
Ingredients: 
● Peppermint leaf (Mentha Pipperta)
● Rama Tulsi (Ocimum sanctum) leaf
● Krishna Tulsi (Ocimum sanctum) leaf
● Vana Tulsi (Ocimumgratissimum) leaf
● Contains added flavour (natural flavours and natural flavouring substances)
● Natural mint flavour
Bursting with refreshing menthol flavour, ORGANIC INDIA's Tulsi Peppermint Refresh is the perfect cooling answer to the hot summer months. A blend of Peppermint leaves and the Queen of herbs, Tulsi, this infusions  is cooling and restorative even when served hot. Also ideal to drink iced to refresh the mind, body, and spirit. Try it with a touch of sweetener.