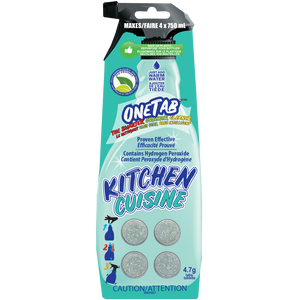 OneTab Kitchen Cleaner Tablets (4/Pack)
Regular price $11.99 Sale
Use OneTab Kitchen cleaner on countertops, sinks, cupboards, appliance exteriors and all other hard surfaces. OneTab Kitchen cleaning tablet uses an alkaline and oxidizing effect for the removal of organic matter on surfaces. Formulated using hydrogen peroxide, citric fruit acid, palm oil soap, organic oil fragrance, organic complexing agent, and food colouring.
All you need is a clean empty bottle, drop-in the OneTab™, fill the bottle with warm water and shake! Use the label provided on the back of the card to safely identify your re-purposed bottles and together we can start to clean our way to a cleaner environment.
Makes 4x750ml
Available in eco-friendly, fully biodegradable formulas to economically clean and disinfect every room in your household. OneTab™ refills are fully dissolvable concentrated cleaning tabs available in different colors, each color specific to their household application allowing you to effectively differentiate each cleaner.
Fresh Scent
Fully Biodegradable
Reduced Waste In Packaging
Low PH Factor
Non-Corrosive
Non-Toxic
Suitable For Use On Any Hard Surface
Intense Cleaning Power
Anti-Bacterial Properties utilizing Hydrogen Peroxide
Disinfectant
Septic Tank Safe
Cruelty-Free
100% Vegan