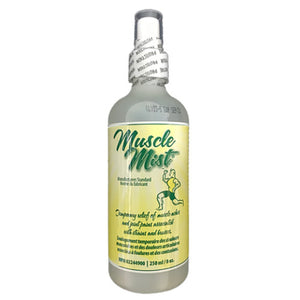 Muscle Mist 250ml
Regular price $29.99 Sale
Muscle Mist is a herbal spray the provides temporary relief of muscle and joint pains that are associated with bruises and strains. 
Features: 
Helps relieve muscle aches and pains
Help relieve arthritis pains
Can relieve headaches
Can also help clear nasal passage
Reduces inflammation
Can help with bronchitis and/or throat and chest discomfort
Can be used on adults and children over the age 2 
Manufactured in Canada
Directions: Shake well before using. Ages 2 years and older apply externally up to a maximum of 3 to 4 times daily for temporary relief of muscle aches and pains. Allow absorption to occur once for maximum penetration. Do not swallow. For bronchial relieve and/or chest pains spray on chest. For sinus relief, spray on wrist and smell from about 4 inches away to clear your nasal passage. Do not inhale internally. 
250 mL per container. 
NPN: 02244900
Medicinal Ingredients:  per 1 mL contains
 
Menthol 
60 milligrams
Clove Oil
2.5 milligrams
Non-medicinal Ingredients: isopropyl alcohol, purified water, eucalyptus oil, camphor, peppermint spirits, jojoba oil