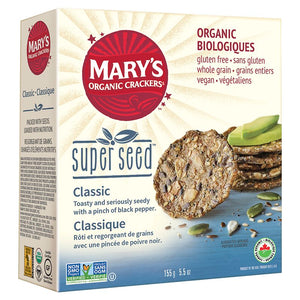 Mary's Organic Super Seed Crackers (155g)
We've introduced sunflower, pumpkin and poppy seeds, to a cracker for a super blend of nutritious, nutty flavor. These crackers remain as crisp and flavorful as the Original Mary's Organic Crackers®, but have a distinctively different taste and look all their own. Still a gluten free cracker, as well as organic, wheat free and non-GMO, they're the perfect addition to our line of whole grain brown rice, quinoa, flax seeds, and sesame seed crackers, except they're also soy free crackers - we've excluded the tamari!
Ingredients:
Organic whole grain brown rice, organic whole grain quinoa, organic pumpkin seeds, organic sunflower seeds, organic brown sesame seeds, organic brown flax seeds, organic poppy seeds, filtered water, sea salt, organic seaweed, organic black pepper, organic herbs. Manufactured on equipment that produces products containing soy.