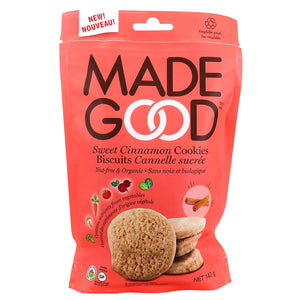 Made Good Sweet Cinnamon Cookies (142g)
What has nutrients from vegetables, no gluten, no allergens, no animal products, a soft texture, and a cozy cinnamon flavour? It's MadeGood sweet cinnamon cookies! This tasty treat is the whole package! Crispy on the outside yet soft on the inside, and nutritious yet sweet! Made with real vegetable extracts, these cookies are everything that you knew you wanted and everything that you didn't know you needed.
INGREDIENTS: 
Gluten-free flour blend* (Oat Flour*, Brown Rice Flour*, Potato Starch*, Ground Chia Seeds*), Cane Sugar*, Palm Fruit Oil*+, Sunflower Oil*, Natural Flavours*, Sea Salt, Baking Soda, Vegetable Extracts (Spinach, Broccoli, Carrots, Tomatoes, Beets, Shiitake Mushrooms), Cinnamon*.