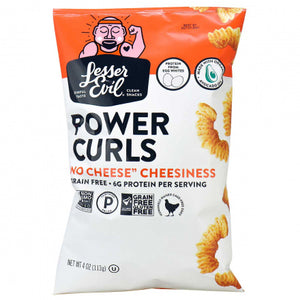 Lesser Evil Grain Free Power Curls "No Cheese" Cheesiness (113g)
Lesser Evil no cheese cheesiness paleo-friendly power curls were created to help you power through the toughest of days. Our grain-free mixture of organic cassava flour, cage-free non-GMO egg whites may give you the motivation to get through those tough days. With 6 grams of protein per serving, you'll be feeling like a super human in no time!
INGREDIENTS: 
Organic Cassava Flour, Cage-Free NON-GMO Dried Egg Whites, Organic Tapioca Native Starch, Organic Avocado Oil, Organic Tapioca Starch, Organic Tapioca Solids, Himalayan Crystal Salt, Organic Nutritional Yeast, Organic Flavor, Yeast Extract, Organic Garlic Powder, Organic Onion Powder, Lactic Acid, Organic Ground Mustard, Organic Spices.
Contains eggs.
Produced in a facility that also uses Milk ingredients.