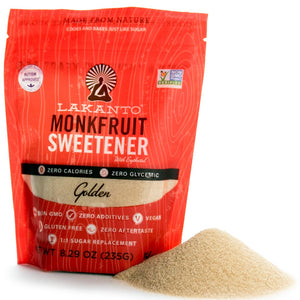 Lakanto Monk Fruit Golden Sweetener (235g)
Lakanto Monk Fruit Sweetener is the only zero calorie, zero glycemic sweetener that is just like sugar. It is made from Monk Fruit which was used for centuries in eastern traditional herbalism to increase chi and well-being, earning it the nickname "The Immortals' Fruit". We still grow and harvest Monk Fruit for LAKANTO in the same pristine area and according to traditional and environmental methods.
- PROPRIETARY mixture of the highest purity Monk Fruit extract and Non-GMO erythritol. Lakanto is a perfect sweetener for blood sugar and weight management
- 1:1 SUGAR REPLACEMENT - Unlike monk fruit in the raw that has a light yeast flake feel; Lakanto has a perfect mix of monk fruit and erythritol (naturally found in many fruits and vegetables) to match the sweetness of sugar and maintain 1 for 1 sugar replacement
- ZERO EFFECT on blood sugar or insulin levels, making it a great sweetener for blood sugar and weight management. Ideal for sports enthusiasts, ketosis diets and those trying to watch their sugar consumption
- GOLDEN Lakanto is a brown sugar substitute. We use Non GMO Eurythritol and we don't use Xylitol that can cause gas.