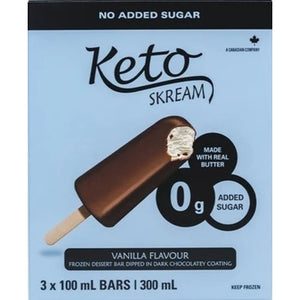 Keto Skream Vanilla Frozen Dessert Bar in Chocolatey Coating (3x100ml)
Regular price $11.99 Sale
Vanilla KetoSkream dipped in a delicious, smooth, no-sugar-added chocolate coating. The perfect frozen dessert at any time of the day!

No added sugar: We do not add any sugar to our recipe. Sugar that exists in the product is there because it is naturally occurring in the raw ingredients.

1 gram net carb per bar: We use clean ingredients and consolidate as much of our sweeteners and fibres as possible. KetoSkream does not add in additional or unnecessary ingredients in order to simulate a product. We keep it clean!

18% butter fat: Our ice cream contains more butter fat than any brand on the market. KetoSkream comes in at an incredible 18% butter fat.

Low overrun: At 70%-75% overrun we use less air in our product, meaning our product is denser and contains more of the ingredients that make up our product with less air, meaning more room for the good stuff!

Made in Canada: KetoSkream is proud to be Canadian owned, Canadian operated, and Canadian manufactured.
INGREDIENTS: WATER, UNSALTED BUTTER, FROZEN EGG YOLK, MILK PROTEIN CONCENTRATE, ERYTHRITOL, TAPIOCA FIBRE, VEGETABLE GLYCERIN, GUAR GUM, SUNFLOWER LECITHIN, XANTHAN GUM, HIMALAYAN SALT, NATURAL FLAVOUR, PURIFIED STEVIA EXTRACT, DARK CHOCOLATE CONFECTIONERY (UNSWEETENED CHOCOLATE, MALTITOL, COCOA BUTTER, SOY LECITHIN, NATURAL FLAVOUR), COCONUT OIL.
Contains: Milk, Eggs.