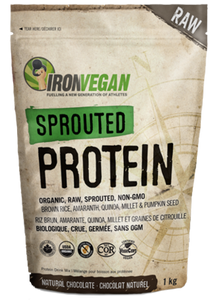 Iron Vegan Sprouted Protein Powder Natural Chocolate (1kg)
Regular price $75.99 Sale
Gone is the gritty, grainy mouth feel of a typical vegan protein. In its place is a smooth, delicious flavour and creamy texture that will almost certainly surprise you.
It begins with organic sprouted whole grain brown rice. Unlike white rice, the protein from brown rice is enzymatically extracted, without the use of chemical solvents, from multiple layers of whole grain including the bran, germ and endosperm.

Next is the addition of raw organic sprouted quinoa, amaranth, millet and pumpkin seed. Each of these organic sprouts is germinated at room temperature, allowing them to retain nutrients that would otherwise be compromised during cooking.

Last but not least is a combination of organic flavours and sweeteners that help to give Sprouted Protein its remarkable taste.
Benefits:
contains 17 grams of raw, plant-based protein
5 types of non-GMO sprouted grains and seeds
Provides a complete profile of all 9 essential and non-essential amino acids.
No artificial flavours or colours
Sweetened with organic stevia leaf
Remarkably smooth and creamy taste
Ingredients: Organic Sprouted Brown Rice Protein, Organic Sprouted Quinoa, Organic Sprouted Amaranth, Organic Sprouted Millet, Organic Sprouted Pumpkin Seed, Organic Fair Trade Cocoa, Natuarl Chocolate Flavour, Apple Pectin, Xanthan Gum, Organic Stevia Leaf Extract.