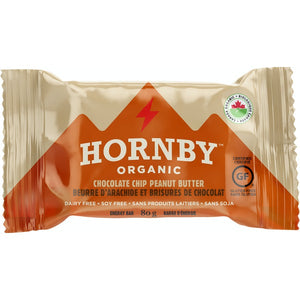 Hornby Organic Chocolate Chip Peanut Butter Bar (80g)
Ingredients: Rolled Oats* (Gluten Free), Peanut Butter*, Honey*, Tapioca Syrup*, Molasses*, Sesame Seeds*, Chocolate Chips†* (Cane Sugar*, Cacao Mass*, Cacao Butter*), Peanuts*, Sea Salt.
*Organic †Fairtrade
This gourmet, tasty, gluten-free bar is our top-seller! The base is a bountiful mix of organic peanut butter, organic rolled oats, drizzled honey, and sesame seeds. Chunky chocolate chips and rich velvety blackstrap molasses create a flavour that makes this nutritious snack feel like a rich dessert.
100% Organic Ingredients 
Certified Gluten-Free 
11 g Protein 
Dairy and Soy Free