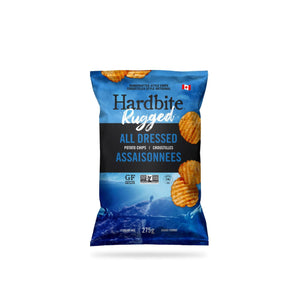 Hardbite Rugged All Dressed Chips 275g
A truly Canadian flavour for the rugged Canadian wilderness. Sweet, salty, and savoury all in one bite. With chips this delicious, you'll want to keep the bear spray nearby. But with our new potato carving technology the crunch will likely do the trick. Don't be a bag hog, though. Our Level-Up size means there's more chips for you to share and enjoy.
Ingredients: 
Potatoes, Non-hydrogenated sunflower oil and/or Non-hydrogenated canola oil, Sugars (evaporated cane sugar, tapioca maltodextrin), Salt, Yeast extract, White distilled vinegar, Tomato powder, Onion powder, Garlic powder, Malic acid, Spices, and Natural flavours.