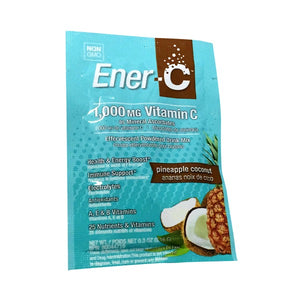 Ener-C Pineapple Coconut (0.3oz.)
Product Features:
pineapple coconut flavour.

provides a boost of energy - B Vitamins and potassium give you that non-caffeinated boost of energy without a crash.  B Vitamins are essential to supporting a healthy metabolism, enabling your body to generate energy naturally.

contains 25 nutrients - designed to help your body operate at optimum levels and well being.

helps to maintain your health - a mineral ascobate mix that was designed for maximum absorption.  The powerful combination of Vitamin C, zince, Vitamin A and E will help maintain and build your immune system.

helps to replenish your electrolytes - helps to keep your electrolytes in balance.

provides antioxidant support.