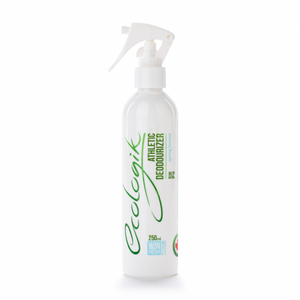 Ecologik Athletic Deodourizer Spring Breeze (250ml)
Regular price $16.49 Sale
Our Athletic Deodourizer is perfect for any piece of personal gym equipment, work out clothes, stinky work boots, cleats, sneakers, sports bags, racquet handles or anything else that needs it's odour to be devoured but is not laundry machine safe!
Specially formulated to fight organic residues with the power of enzymes and 75 trillion cleansing microbes
Metabolizes source of odour rather than masking it!
99.9% Natural Ingredients!
Ingredients: water, bacterial enzymes mixture (75 trillion cleansing microbes), scented with essential oils (citrus lemon peel oil)