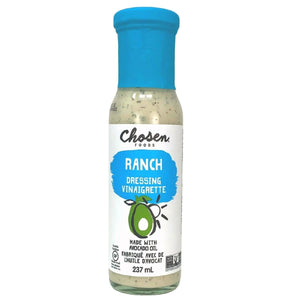 Chosen Foods Ranch Dressing (237ml)
Indulge in the bright herbs of our creamy Ranch, blended with the richness of pure avocado oil, for the taste of pure sunshine.
Chosen Foods Ranch Dressing is creamy, tangy and classic. With organic buttermilk, vinegar, dijon mustard, lemon juice, spices, and a dash of sea salt, this must-have recipe is tied together in a beautiful base of pure avocado oil.

For salads, dips and marinades: Drizzle over organic mixed greens and kale, dip freshly sliced vegetables, stir into homemade sauces, or marinate chicken, seafood and tofu.
Coastal crafted flavor made with purpose: We believe in sea, sunshine and simplicity! Try all of our dressing blends inspired by the flavors of the Baja Med.

Heart healthy, naturally Kosher, keto, gluten-free, plant based, certified by the Non-GMO Project, and free of soy, canola and other oils. As always, our dressings contain no added sugar.

100% pure avocado oil is the star of our story. Join us in creating simple ways of experiencing natural culinary wonder.
INGREDIENTS: 
Avocado Oil, Filtered Water, Vinegar, Lemon Juice From Concentrate (Water, Concentrated Lemon Juice), Frozen Egg Yolk, Salt, Mustard (Water, Organic Mustard Seeds, Organic Vinegar, Salt, Organic Turmeric, Organic Spices), Garlic Powder, Onion Powder, Rosemary Extract (For Freshness), Dill Weed, Black Pepper, Chives, Parsley, Natural Flavours, Yeast Extract, Xanthan Gum.

Contains: Eggs and Mustard