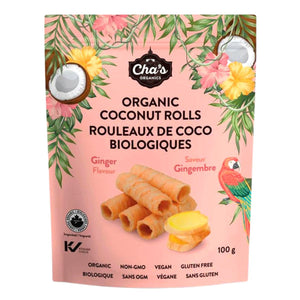 Cha's Organic Coconut Rolls Ginger (100g)
The snacks dreams are made of.

Whether relaxing with a cup of chai or heading out for a day of fun with the family, grab a bag (or two!) of Cha's Organics Ginger Coconut Rolls for the ultimate clean snacking experience.

Gluten and dairy free, these delightfully crispy wafer rolls are made from pure organic coconut milk combined with wholesome, real food ingredients all rolled into an unparalleled bite-sized indulgence.

So go ahead, snack without compromise!

Ingredients: Organic coconut, organic heirloom rice flour, sugars (organic coconut sugar, organic cane sugar), organic green banana flour, organic ginger.
Quality standards
Organic

Vegan

Gluten free

Dairy Free

Kosher

Non-GMO

Peanut free

Tree nut free