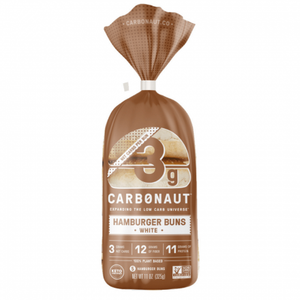 Carbonaut Keto Hamburger Buns (5/Pack)
Buns away! Carbonaut is finally dropping their keto-friendly hamburger buns and we're not letting you miss it. These nut-free, low-carb burger buns are soft, fluffy, and ready for any filling that you throw it's way. A crispy chicken patty? Or perhaps a traditional beef patty, or a black bean patty? Anything that you can imagine pairs well with these white hamburger buns! Packed with 12g of fibre, 11g of protein, and only 3g of net carbs, Carbonaut keto hamburger buns are ready to dominate BBQ season!
Ingredients: Wheat Protein Blend, Resistant Potato Starch, Flax Meal, Bamboo Fibre, High Oleic Sunflower Oil, Yeast, Chicory Root Fibre, Pea Fibre, Psyllium Husk, Cultured Wheat Starch, Salt, Citric Acid, Ascorbic Acid. 
Contains Wheat. 
May contain sesame seeds, 
Made in a peanut-free and tree nut-free facility.