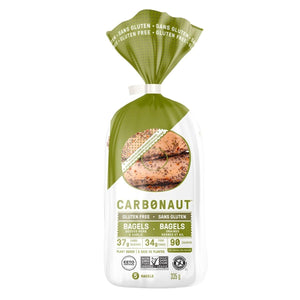 Carbonaut Keto Gluten Free Seeded Herb & Garlic Bagels (5 Pack)
Regular price $10.75 Sale
Bite confidently into Carbonaut's gluten free bagels and you'll experience a whole new universe of low carb goodness!
These bagels made with natural ingredients are keto friendly and gluten free, so that you can treat each breakfast time like a celebration of your low carb lifestyle. 
We love Carbonaut, and you will, too, because of these reasons: 
Only 3 to 4 grams of net carb per bagel
Made with plant-based ingredients
Low in calories to help maintain your weight
Tastes really good!
Ingredients: water, resistant tapioca and/or potato starch, high oleic sunflower oil, inulin, psyllium, modified cellulose, fonio grain, poppy seeds, xanthan gum, rice bran, flax seeds, minced onion, yeast, salt, dried parsley, natural flavours, garlic powder.