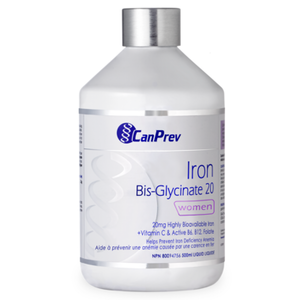 CanPrev Iron Bis-Glycinate 20 - Women (500ml)
Regular price $29.99 Sale
Helps to prevent iron deficiency anemia, form red blood cells and support red blood cell functioning.
This liquid formula contains 20 mg of elemental iron in every tablespoon, and is enhanced with vitamins C, B6, B12 and folate, all cofactors that help in the absorption and assimilation of iron for the production of healthy red blood cells.

Features:
Easy to absorb liquid iron complex with 20mg of iron per tablespoon
High absorption rate without bowel irritation
Vitamins C, and active B6, B12 & folate to help maximize absorption
Directions:
 Adults: Take one (1) tablespoon per day with food, or as directed by a healthcare professional. Take a few hours before or after taking other medications or natural health products. Refrigerate after opening.
Ingredients:Each tablespoon (15ml) contains:
Iron (Ferrochel™ ferrous bis-glycinate chelate)*...20mg
Vitamin B6 (pyridoxal-5-phosphate)...20mg
Vitamin B12 (methylcobalamin)...500mcg
Folic Acid (L-5-methyltetrahydrofolate)...400mcg
Vitamin C (ascorbic acid)...100mg
Non-Medicinal Ingredients:
Honey, stevia, glycerin, potassium sorbate, citric acid, natural orange flavour, purified water.
Cautions & Warnings:
 As with any natural health product, you should consult a healthcare practitioner prior to use. Do not use if seal is broken.