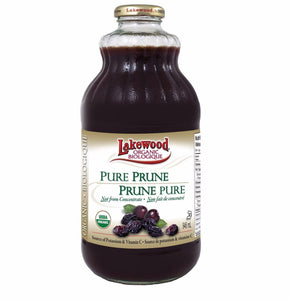 Lakewood Organic Pure Prune Juice (946ml)
Regular price $12.99 Sale
Lakewood's Organic Pure Prune Juice provides Essential Micro-Nutrients, Vitamins & Minerals to help:
Maintain Healthy Glucose Levels - Restore Vital Body Electrolytes for Overall Vitality, Health & Well-Being

Support the Immune System and Maintain Normal Cholesterol & Glucose Level

Support the Digestive System & Help Maintain Normal Cholesterol Levels"
Lakewood Organic Pure Prune is the Juice From 3 LBS Prunes in Every Bottle! It is a 100% Pure Cold Pressed - Not from Concentrate Prune Juice. Lakewood's organic prunes are Fresh Pressed and NO additional sugars are added - all sugars are naturally occurring within the fruit.  All Lakewood Organic Juices are bottled in Eco-Friendly Glass Bottles, which means that all bottles are non-toxic & BPA Free!