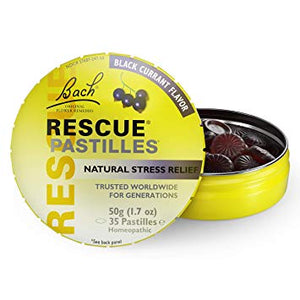 Bach Rescue Pastilles Black Currant (35/Pack)
Rescue® Pastilles are ideal for coping with exam stress, driving tests, first day of school nerves, job interviews and high pressure environments. The funky tin with an easy "press on the lid" opening and closing mechanism. It is easy to take anywhere and with natural flavoring safe for use by the whole family.
Ingredients: Active: Each 5x HPUS: Cherry Plum (Prunus Cerasifera), Clematis (Clematis Vitalba), Impatiens (Impatiens Glandulifera), Rock Rose (Helianthemum Nummularium) Star Of Bethlehem (Ornithofalum Umbellatum). Inactive: Beeswax, Sugar Substitute (Sorbitol, Isomalt), Gelling Agent (Gum Arabic), Natural Flavor (Blackcurrant), Citric Acid, Natural Colours (Extract Of Red Cabbage, Elder, Black Carrot), Sweetener (Xylitol), Vegetable Oil.