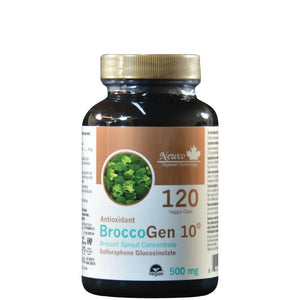 Newco BroccoGen 10 (120 Capsules)
Regular price $0.00 $57.99 Sale
Newco Natural Technology's own revolutionary supplement BroccoGen 10® contains Sulforaphane, a naturally occurring compound in vegetables such as broccoli, cauliflower, wasabi and more. Sulforaphane increases enzyme activity which promotes age-defying and anti-inflammatory properties, detoxifies and protects skin and increases cellular integrity.
Primary Benefits: Arthritis, total body detox, macular degeneration, immune system support, protects the brain, hormone balancing, support breast & prostate health, effective at treating helicobacter pylori, protects from radiation, free radicals, electrophiles, chemicals and viruses, protects from oxidative stress & inflammation.
Ingredients: Brassica oleracea italica (Broccoli Sprout) Powder, Sulforaphane Glucosinolate (Glucoraphanin), Microcrystalline Cellulose, Silicon Dioxide, Magnesium Stearate (Vegetable Source), Capsule (Vegetable Cellulose and Water).