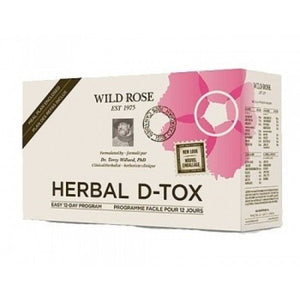 Wild Rose Herbal D-Tox (12 Day Program)
Regular price $49.99 Sale
To help maintain a healthy balance of assimilation and elimination, the Wild Rose Herbal D-TOX Program is uniquely designed to enhance all aspects of metabolism. It is a proven 12-day cleansing program, placing an emphasis on supporting the function of the liver, the small intestine and the bowels to promote proper digestion and elimination of toxins and wastes. The herbal formulas combined with the Simple Cleanse-Enhancing Diet is designed to encourage continued health, clearing of a congested system or renewal following over-consumption. It's a simple way to maintain health, start a new lifestyle or break old habits.
Cleanses the colon, kidneys, urinary tract, gastrointestinal tract, and supports liver function
Helps eliminate toxins & enhances metabolism
Simple Cleanse-Enhancing Diet included
This 12-day program includes:
Biliherb (48 tablets; 2 tablets 2 times a day)
Cleansaherb (48 tablets; 2 tablets 2 times a day)
Laxaherb (48 tablets; 2 tablets 2 times a day)
CL Herbal Extract (50 mL; 2 mL (40 drops) 2 times a day)
DIRECTIONS: Adults, take two tablets from each bottle and 2 ml (40 drops) of the CL Herbal Extract with both breakfast and supper, a few hours before or after taking other medications or natural health products, or as recommended by your healthcare practitioner. Allow at least 6 to 12 hours for laxative effect to occur. Do not take with highly acidic foods or medications which may acidify urine.