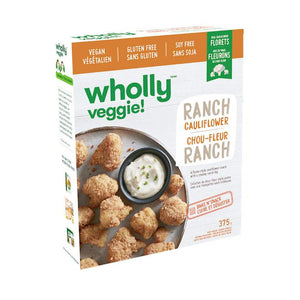 Wholly Veggie! Ranch Cauliflower (375g)
Wholly Veggie is bringing one of the hottest restaurant appetizers to your home!
Ingredients - Cauliflower:
 Cauliflower, panko coating (water, rice flour, pea protein, dextrose, baking soda, corn flour, rice flour, potato starch, rice starch, tapioca dextrin, sea salt, sunflower oil, flavor, yeast extract, ancho pepper powder, xanthan gum).
Sauce:
 Water, sunflower oil, vinegar, modified corn starch, salt, cane sugar, concentrated lemon juice, onion powder, garlic powder, faba bean protein powder, spices, sunflower lecithin, guar gum, cellulose gum, xanthan gum.