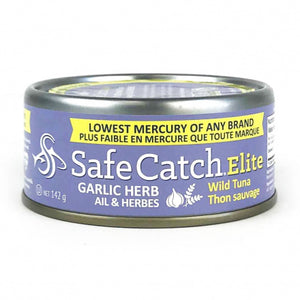 Safe Catch Wild Tuna Garlic Herb (142g)
WHY YOU'LL LOVE IT
The Safe Catch Seasoned Elite line pairs our lowest mercury tuna (Elite) with all natural premium ingredients. Garlic Herb is seasoned with all natural black pepper, oregano, basil, rosemary, garlic, onion, orange peel, chili pepper, and a touch of avocado oil!
√ MERCURY TESTED

We hand pick premium wild tuna, then test each and every one to a mercury limit that is ten times (10x) lower than the FDA action limit. Safe Catch Elite is the only brand of tuna that meets Consumer Reports' "Low Mercury" criteria set for pregnant women and children. Safe Catch Elite is the official tuna of the American Pregnancy Association.

√ ARTISAN COOK PROCESS

Our competitors pre-cook their products and pump them full of preservatives, which causes the fish to lose flavor and the majority of Omega-3s. This results in a bland taste and texture, along with decreased nutritional value. At Safe Catch, we hand-cut and hand-pack premium raw wild tuna steaks to retain all the vital Omega-3 oils and nutrients, then slow cook them to perfection to retain peak flavor and texture.

√ NOTHING ADDED, NOTHING DRAINED

At Safe Catch, we don't add water, fillers, preservatives, or GMO-Soy broth to our tuna. Unlike other brands, we only pack pure wild tuna steaks, and premium seasonings into our cans. We add a touch of organic avocado oil to highlight the flavor of the seasonings. Just empty the can into a bowl and mix all contents together, so the tuna reabsorbs the natural fish oils and seasonings. Please do not drain.

√ SUSTAINABLY CAUGHT

Our Elite tuna is wild and sustainably caught without using FADs or long lines. We are a proud partner of the Monterey Bay Aquarium Seafood Watch program and a Vancouver Aquarium Ocean Wise Partner.
Ingredients: Skipjack tuna (Katsuwonus pelamis), avocado oil, black pepper, oregano, basil, rosemary, garlic, onion, orange peel, chili pepper, parsley.