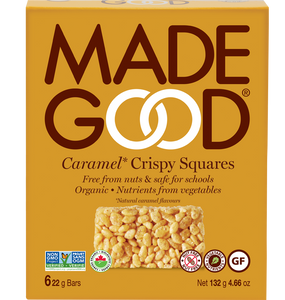 Made Good Caramel Crispy Squares (6 Bars)
This caramel crispy square is the most indulgent flavour of MadeGood® crispy squares. This delicious treat combines the simple pleasure of crispy rice with the indulgence of caramel. A captivating flavour that you won't forget! But, as all MadeGood® snacks, they are also certified organic, gluten free, and vegan. And healthy, of course, with the nutrients of a serving of vegetables hidden in each snack.
Ingredients: Crisp brown rice*, invert cane syrup*, palm fruit oil*†, inulin*, vegetable glycerin*, cane sugar*, tapioca flour*, natural flavours*, sea salt, caramel*, vegetable extracts (spinach, broccoli, carrots, tomatoes, beets, shiitake mushrooms).
*Organic. †Sustainable.