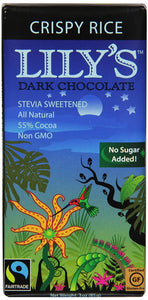 Lily's Dark Chocolate Crispy Rice Bar (85g)
Lily's stevia-sweetened premium dark chocolate has all the indulgence you crave with 25% fewer calories than other 55% dark chocolates. We use only the finest non-GMO ingredients, inclu­ding cocoa that's both Fairtrade and gluten-free certified. At Lily's we're committed to making great tasting chocolate better for you.
Our Crispy Rice is a nod to the snappy, crackly, childhood candy bar that made us smile. The one with the savory little crunches mixed in with the velvety chocolate. One bite of our crunchy, stevia-sweetened chocolate flings you back to happy childhood days — and makes you feel that all is right with the world.