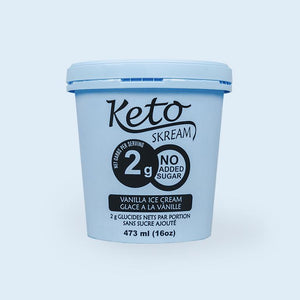 Keto Skream Vanilla Frozen Dessert (473ml)
Our take on classic chocolate ice cream with only 2g net carbs per serving and no added sugar. Delicious enough to satisfy any sweet tooth. Made with real cocoa, making this a decadent and mouth-watering treat for any occasion. So go ahead, Classic smooth tasting vanilla flavour that we know and love, without any added sugar. Made with real cream and only 2g net carbs per serving, you won't want to share!

No added sugar: We do not add any sugar to our recipe. Sugar that exists in the product is there because it is naturally occurring in the raw ingredients.

2 grams net carbs per half cup serving: We use clean ingredients and consolidate as much of our sweeteners and fibres as possible. KetoSkream does not add in additional or unnecessary ingredients in order to simulate a product. We keep it clean!

18% butter fat: Our ice cream contains more butter fat than any brand on the market. KetoSkream comes in at an incredible 18% butter fat.

Low overrun: At 70%-75% overrun we use less air in our product, meaning our product is denser and contains more of the ingredients that make up our product with less air, meaning more room for the good stuff!

Made in Canada: KetoSkream is proud to be Canadian owned, Canadian operated, and Canadian manufactured.
Ingredients: Cream, Water, Erythritol, Egg yolk, Inulin (chicory root fiber), Milk proteins concentrate, Whey protein isolate, vegetable glycerin, Himilayan salt, Guar gum, Locust bean gum, Natural flavour, Pure stevia extract.
Contains: Milk, Eggs.